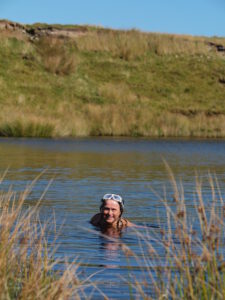 I'm a writer and broadcaster and am the author of three wild swimming books: the latest, Wild Swimming Walks Cornwall (co-authored with Matt Newbury) was published in March  2021.  My memoir about love, loss and landscape, The Green Hill, is being published by Unbound. See more here: www.unbound.com/books/thegreenhill
I live on the edge of beautiful Dartmoor in Devon, and spend most of my free time swimming outdoors in rivers, lakes and the sea.  You can read about what I get up to in the water here.
For many years I was a reporter for the BBC,  for both radio and TV, where I covered a multitude of stories, everything from skateboarding ducks through to interviewing the Prime Minister.
I also write  features for national newspapers, mainly the Daily Telegraph but also the Guardian, on issues ranging from health and the family to leisure and sport.
I have written three wild swimming books with my friend Matt Newbury, and we are currently working on a fourth, "Wild Swimming Walks Dorset and East Devon" which will be published in 2022.
Our first was  "Beyond the Beach: the secret wild swims of Torbay".  Read more about these on the 'Books' page.
We featured in a film about wild swimming produced by Nick Smith from ITV West Country.  You can watch it here (all 2 minutes of it! )